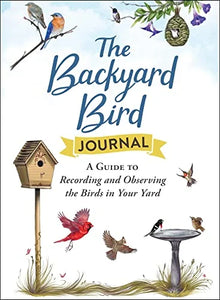 The Backyard Bird Journal
Make your backyard a birding paradise and record the birds that flock to your yard with this easy-to-use birdwatching journal. The Backyard Birding Journal helps you keep track of the many different species you can spot right from the comfort of your own home.

The log pages let you quickly catalog each bird you see and make notes about its visit to your yard—including interactions with feeders or water sources and interesting activities and behaviors. You'll find room to record multiple visits from each species to help you better observe and understand birds' behaviors. You can use your observations to keep your feeders stocked with their favorite foods and discover ways to make your feathered visitors feel even more welcome in your yard. You'll also find a bucket list of fifty of the most common backyard birds so you can see just how many you can attract to your yard.

Pull out your binoculars and take your backyard birding to the next level with The Backyard Birding Journal!e.
---
We Also Recommend
---